Community Funding
People First Launch €8,000 Mental Health Fund
People First Credit Union represents the community. As we move out of Covid, now more than ever People First wants to support our members, which is why we have launched our €8,000 Mental Health Fund.
This Fund is aimed at supporting non-profit organisations, groups, and charities involved in the promotion of mental health activities/initiatives/ projects within our community.
The Mental Health Fund is not limited to the following:
Applications from individuals.
Mental Health projects that have already happened.
Mental Health projects outside of the People First Common Bond area.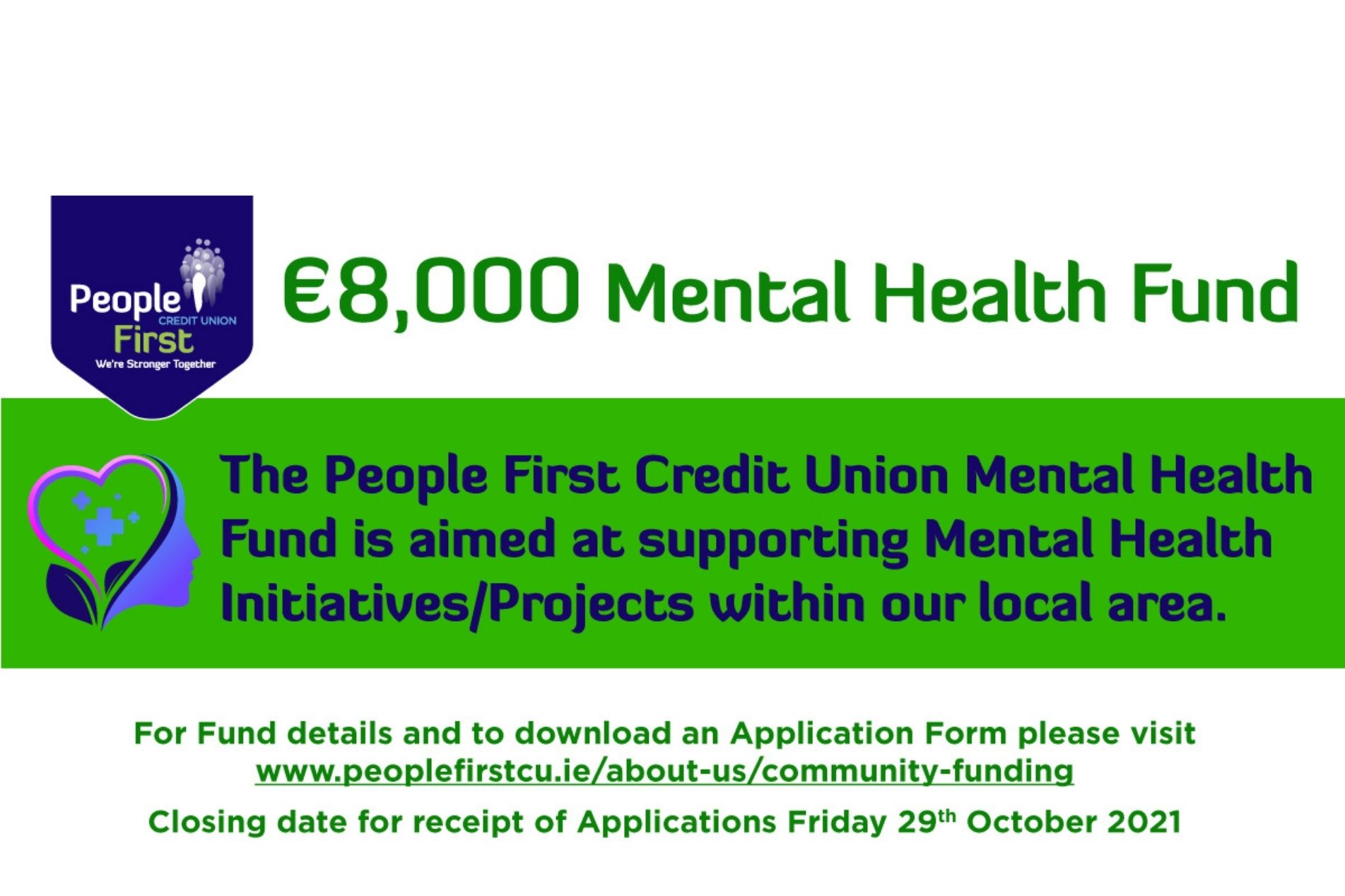 Applying for Mental Health Fund
Currently, the People First Credit Union is making an €8,000 Fund available to local groups and organisations involved with Mental Health projects / inativies. Applications must be from non-profit organisations or charities within our common bond area.
In making this application to People First Credit Union, please note the following:
The application will be treated as incomplete without the form being completed in full.
Only groups or organisations will be considered.
People First Credit Union does not sponsor individuals.
Eligible applicants must be members of People First Credit Union's common bond. Please contact the office if you are unsure of your eligibility.
People First Credit Union will agree funding guidelines to the recipient regarding photo opportunities, and PR opportunities.
If funding has been approved, the contact as outlined above will be notified, however, the funding will not be released until sponsorship guidelines have been carried out by the organisation and approved as satisfactory by People First Credit Union.
Applicants, please feel free to attach further information supporting your funding application.
All organisations applying for People First Community Funding need to outline project details, including project amount.
The Closing Date for receipt of applications is by noon Friday 29th October. 
Membership has many benefits...
Flexible & Convenient Loans
Members can take out flexible loans 5 weeks after joining, and repay at tailor-made schedules. All our loans are fully insured (for free), against disability or death.
Quality Service, No Fees
You can be assured of a professional service from Credit Union at all times. And you do not pay a transaction fee for saving with us, or borrowing money.
Pay by Direct Debit
Arrange a Direct Debit payment from your bank and be sure of regular payments to your Credit Union account. We will send you a statement showing all transactions.